JUST FOR TEACHERS
Thank you for visiting our "Just For Teachers" Page.  We have created this page to help teachers see exactly the resources offered by The Arc Northwest Mississippi that will be of benefit to the children that they teach.
Job Readiness Classes 
The Arc Northwest Mississippi offers Job Readiness classes for individuals ages 14-21.  Our weekly classes cover subjects including:  Job Exploration, Workplace Readiness (soft skills), Self-Advocacy, and Post Secondary Options.  Classes can be taught at your school during the school day or after school.  Classes are also offered at our office in Southaven and on-line.  Students are ability grouped and instruction is presented with the needs of each specific group of students in mind.  After one year of instruction, students are invited to take part in our Summer Work Experience Program.  They will become employees of The Arc Northwest Mississippi, work at businesses around our community, and receive a paycheck.  Each summer, students of our Job Readiness Program are offered jobs based on their work experience.  
This program is sponsored by Mississippi Department of Rehabilitation Services.  To enroll your students, they must complete the "OVR/OVRB Potentially Eligible Student Pre-ETS Referral Form."  The parent and student must sign the form and their Social Security Number must be included.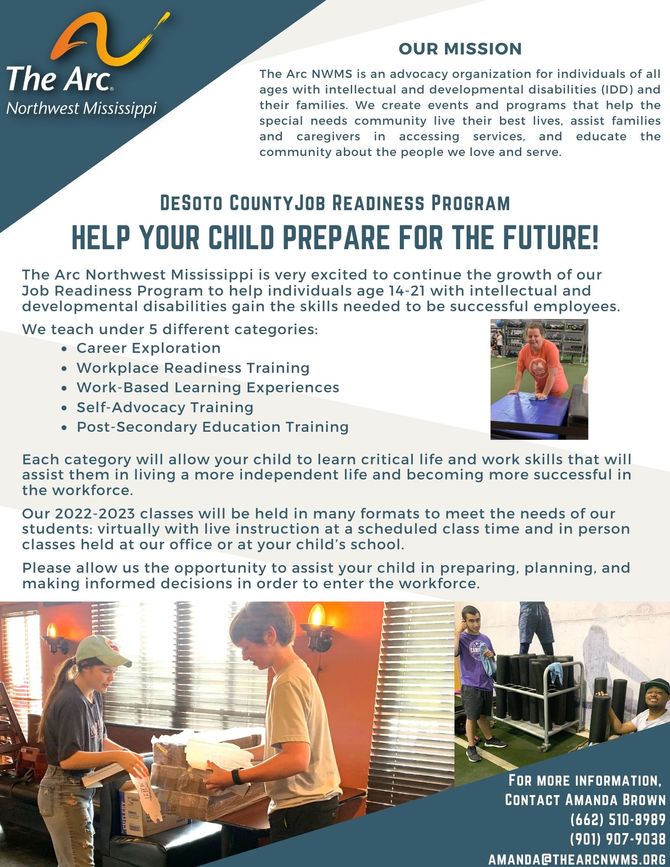 JOBAPOLOOZA
Join The Arc NWMS for an exciting full day work adventure where students will get to experience working at many types of jobs in one location.  Our favorite businesses from DeSoto County will set up work simulations at Longview Heights Baptist Church where your students will become employees for the day and get to "try out" our work environments.  Restaurants, ware houses, retail stores, technical jobs, and human service industries will all be presented to create a well-rounded experience.  "Workers" will be provided with an event t-shirt, ID badge, and a Gift Card as payment for their hard work.  Teachers that bring students and lend a hand will also be given the same benefits! 
Final details are being "hammered out" right now.  Look for more information on signing up your students for this exciting work adventure.  Participants must have a signed, completed Pre-ETS Referral Form that includes their social security number.